The estimated reading time for this post is 5 Minutes
Introduction
Archival resources discussed in the presentation have helped establish new facts about HOME, Inc.'s past. The search using Northwestern University Library Special Collections tool and newspaper archives (East Boston Community News and Gay Community News) yielded certain results relevant to the organization. However, the located articles and documents did not contain visual materials, which is why HOME, Inc.'s website remains the key source of photos. The purpose of this paper is to present the results of the archival search and implement new information to expand the description of HOME, Inc.
Initial Bibliography and Expanded Organization Description
Photos
As of now, pictures and photos that illustrate HOME's history and participation in different projects can be found on the organization's official website in the historical overview section. The available photos depict the process of filming programs for teenagers at HOME's facilities (figure 1) and shed light on my most recent area of interest – HOME's work with teenagers. Some other photos demonstrate the interior design of artists' studios at the Bates Arts Resources Center (figure 2). Some visual materials depict the works of art and sculptures created by HOME's key activists (figure 3).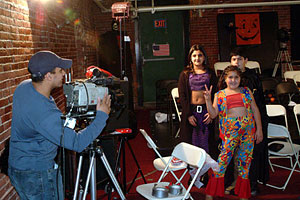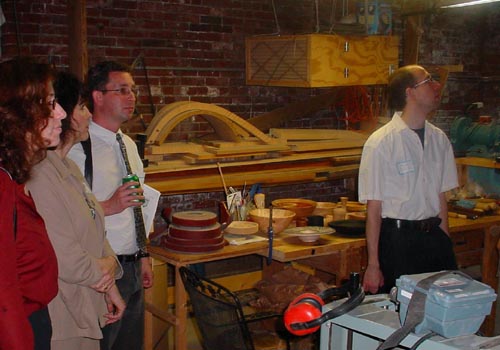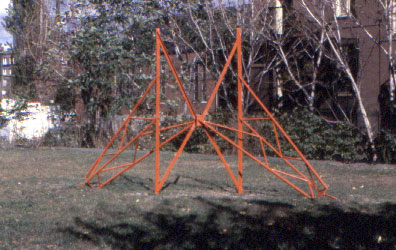 As per the archival and online research, the organization and its director, Alan Michel, have been mentioned in both local and national printed sources. The identified printed media mentions mainly involve the reviews of events at the Bates Arts Resource Center managed by HOME. The earliest reference is dated 1981 and covers HOME's lecture in video education. On March 18, 1981, HOME organized a lecture titled "Video Applications in Education" at the Bates Arts Resource Center and announced upcoming lectures on the instructional uses of cable TV ("What's happening: Education," 1981). In 1982, Watermelon Studio's "Mad Teaparty," a fundraising event at the Bates Resource Center, was briefly mentioned in Gay Community News ("Coming events: 4 sat," 1982). However, the reviewed meeting's key purpose was not even explained. Therefore, in the early 1980s, HOME's educational and philanthropic events at the Bates Arts Resource Center, one of Boston's historic buildings, were recognized as a significant part of the city's life.
In 1987, HOME, Inc. became known when it fulfilled the role of one of the co-founders of the Teen TV program in Boston. Two sources published that year advertised the program and highlighted HOME's contributions to the popularization of journalism among local teenagers. In February, Freitas (1987) announced the program and described it as HOME's and Alan Michel's attempt to create positive role models for teenagers and increase the TV coverage of adolescents' everyday issues and opinions on sensitive topics. Within the frame of Teen TV, the participants received training in video production and took part in the creation of a thirty-minute TV show. The show covered events for teenagers in Boston, young people's performances, and teenagers' opinions on social problems, such as drug abuse (Freitas, 1987). In June, Teen TV was also reviewed in Boston University Medical Center's (1987) internal resource for employees as a program with high social significance. As per the source, HOME's director hoped to involve at least two hundred local teenagers in the project to support a new generation of leaders (BUMC, 1987). Thus, the Teen TV project gained significant media coverage in 1987.
Certain references to HOME, Inc. in printed media and documents explain redevelopment plans pertaining to the area and reveal the history of the Bates Arts Resources Center managed by HOME. In the plan by Boston Redevelopment Authority (2003), it is mentioned that HOME's art center makes use of a historic building formerly known as the Joshua Bates School. Nevertheless, due to the document's initial purpose, HOME's events are not covered.
HOME's and its director's vision and plans find reflection in relatively recent sources, such as magazines by media literacy associations. Seven years ago, the Consortium for Media Literacy (2014) published a large interview with Alan Michel in which the man shared his viewpoints regarding strategies in fostering media literacy. When starting his career as a sculptor, Michel developed an interest in youth media production as a form of empowerment, and that takeaway informed his desire to establish HOME (CML, 2014). As per his opinion, Community PlanIt was among HOME's most successful projects aimed at youth. Within its frame, a series of vignettes for different social challenges was created, and school-aged participants were supposed to contribute to solution generation by means of filming interviews and participating in discussions (CML, 2014). From Michel's perspective, the program generated invaluable results since the participants were eventually invited to communicate their proposals to Boston Public Schools' executive committee (CML, 2014). Thus, HOME's founder has gained recognition from those in the media literacy field for youth empowerment efforts.
Conclusion
To sum up, the search of archived documents has helped to create an initial bibliography and include additional facts about HOME's educational programs of the past decades in the description. The retrieved sources supplement the information from the organization's website by highlighting HOME's role in Boston's social and cultural life in the 1980s. The analyzed references to HOME in archived resources reveal the organization's determination to empower youth.
References
Boston Redevelopment Authority. (2003). Development plan for Harrison Commons and Harrison Court South End District within planned development area no. 59. Web.
Boston University Medical Center. (1987). Take one: A publication for the people of the University Hospital. Web.
Coming events: 4 sat. (1982). Gay Community News, 10(20), 22. Web.
Consortium for Media Literacy. (2014). Research highlights. Connections – MediaLit Moments, 57, 4. Web.
Freitas, J. (1987). Television for teens. East Boston Community News, 17(8), 3. Web.
HOME, Inc. & Scholastic Media Association. (n.d.). HOME's history. Web.
What's happening: Education. (1981). East Boston Community News, 11(13), 12. Web.
#university #college #student #education #students #study #studentlife #school #universitylife #collegelife #studyabroad #studygram #uni #photography #universit #love #instagood #instagram #graduation #motivation #covid #highereducation #memes #like #learning #science #bhfyp #campus #india #universitystudent