The estimated reading time for this post is 7 Minutes
Introduction
The organization chosen for analysis is Habitat for Humanity International. It is a non-governmental, not-for-profit institution that provides housing services at an affordable rate to persons who cannot afford them using conventional monetary approaches. The company is located in Georgia but has affiliates all around the world; it started in 1976.
The organization's basic social, legal and political and economic environment
The most pressing economic issue that this company deals with is variant inflation rates. For one to qualify for a home, they need to demonstrate that they can meet the obligations of the mortgage loan offered by Habitat for humanity. Usually, those estimates are made in such a manner that they would cover all the costs associated with home building. In the US, these estimates are made in the home currency; however, recipients of Habitat for humanity homes in other countries must include the adjustment for inflation. However, if those countries are going through periods of economic turmoil and high inflationary pressures, then the company's estimates may not be as accurate. The company has also had to grapple with some financial inefficiency. In cases where staff members involved are located very far from targeted building projects, travel expenses and other staff needs may be much higher than anticipated and this implies that mortgage payments made are not comprehensive enough to cover them; resources are constrained. Also, the organization has to deal with access to funds for the projects. However, it has resorted to creative means to achieve this such as the habitat Restore arrangement in which building materials are donated and then used by the company. It has also used campaigns by musicians like Bon Jovie and prominent personalities such as former US President Jimmy Carter (Habitat for Humanity Intl., 2010).
The social environment is also full of challenges and successes for this organization. Every time a natural or man-made disaster occurs, affiliate branches for Habitat for Humanity groups need to be revamped in order to be better able to meet the needs of their local communities. Sometimes housing needs can supersede organizational capabilities in such areas. To cope with those challenges, the company has used creative methods like assembling building materials in affiliate areas and then taking them to disaster-hit regions. The company is affected by its diverse members because sometimes the goals of its international groups may differ from the parent organization and this has caused a lot of tension between groups. Also, there is the problem of reaching low-income and poor groups who are most in need of decent housing. These groups may not be able to afford the mortgages set by Habitat for Humanity thus beating the very purpose of creating the company. Most of the time, such groups come from poor countries and this may result in an underrepresentation of certain parts of the world by the firm.
Lastly, Habitat for Humanity must also contend with some legal issues. For instance, not-for-profit organizations are affected by different laws and regulations depending on the countries targeted. Consequently, their ability to act is highly dependent on the favorability of the legal environment. Furthermore, the management and administration of this organization are sometimes debatable given the fact that it is a special interest nonprofit organization. In other words, some legal tussles have arisen between the company's board and founder. The organization is bound by agreements that require nondisclosure but the latter individual had been accused of dispensing out too much information to the public. Because this was presumed to breach his legal obligations, he was eventually released from the firm (Habitat for Humanity Intl., 2010).
The organization's managerial, financial and operational issues
Project management: Habitat for Humanity can be viewed as a combination of projects. Therefore project management is indispensable to this company. The company often uses different methods to raise money for its projects and this requires different strategizing. For instance, in developed nations like New Zealand, ten percent of proceeds are donated to needy countries. It has annual programs in which volunteers can either take trips for a week or choose to go global. The manner of the building also differs because sometimes the company can build environmentally friendly homes. All these requirements create the need for different project management techniques (Hendrickson, 1998).
Project timelines: More often than not, the firm is bound by the specific needs of its client and its project goals. Sometimes, it may have a lot of homes to construct in a particular disaster-prone area and this may require very speedy work. In such circumstances, houses can be constructed within a day. Project timelines are usually assessed from the time a flow platform exists to the erection of the house in a manner that meets local building codes. Project timelines are also determined by the organization's choice of building methods with the 'Critical Chain' being one of the fastest methods. Timelines can be created for placement of wall panels, door fittings, toilet fittings and painting (Koppleman & Quentin, 2000).
Critical paths and contingency: In projects designed to beat building records, chances are that all project tasks are included in the critical path. These usually occur when the building project is supposed to be completed in less than two weeks. Project completion is often put in jeopardy in case of eventualities that crop up in such scenarios. Some contingencies that the firm has instated include planning for excessive project costs, especially in distant locations. It often makes contingencies for moves made by competitors who may want to use predatory lending. Such a plan entails including a right to the first refusal in mortgage agreements made by clients.
Planning: In order to embark on any project, the firm has to plan for the construction of the house. Members must think of all the resources needed i.e. the labor and how to get them to their preferred sites. The company normally plans for ways of garnering volunteers. Immense efforts go towards planning for project financing where either internally organized charity events or set donations are made. The company also plans how it will implement the project with key activities being outlined and designated to identified volunteers.
Implementation plan contingencies: As the company builds its homes, it may have its own materials for construction but as the project unfolds, a shortage may result. It usually, makes a survey of common local suppliers such that there can be stand-by suppliers. These surveys often contribute towards implementation plan contingencies. Labor implementation contingency plans are also often made. In these circumstances, the organization may prepare for a shortage by keeping volunteers on standby or by training more members than are required for the project (Schweiger et al., 1996).
Staffing needs and tools: Staff members in any Habitat for Humanity project often require training as some of them are not qualified, construction experts. Traveling expenses must be met and in case those members will be spending a lot of time in the target location then arrangements for accommodation must be met. Because staff membership is mostly voluntary, then minimal enumeration is often made. However, others have to be paid (especially the local ones) and this must be accommodated in project cost estimates (Highsmith, 2004).
A GANT chart example for Habitat for Humanity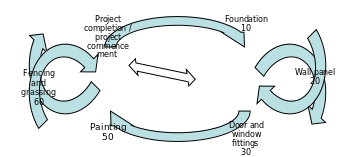 Impact of potential change factors and the impact on functions of management
Since Habitat for humanity operates within the constriction sector, they are usually affected by technological developments as change factors. Time and time again, new and better methods for construction are being introduced and the company has to integrate these ideas from external companies. In order to respond to those challenges, the organization's management must partner with affiliates in areas where the new technology has emerged in order to respond to it. Another key change factor is an alteration in strategy. While this company may have been created with the sole purpose of offering homes, this has changed in certain countries where projects have targeted educational facilities such as Afghanistan. Management has to alter its approaches to resources mobilization and marketing as this was a fresh introduction. Another crucial factor in change management comprised of structural constraints (Datz, 2003). The company structure at its commencement is very different from what goes on in the present. The company had to adapt to the fact that multiple projects were going on in several parts of the world and that maintenance of stringent control by the parent organization would deter project achievements. Management had to discover how to delegate some of these matters.
References
Habitat for Humanity International (2010). Company website.
Schweiger, D., Power, D., Gannon, M. & McGinnis, M. (1996). Strategic management skills. MA: Addison Wesley
Hendrickson, C. (1998). Project management for construction. London: Prentice Hall
Datz, T. (2003). Portfolio management. CIO magazine.
Koppleman. J. & Quentin, F. (2000). Earned value project management. NY: PMI
Highsmith, J. (2004). Agile project management – innovative products. NY: Pearson education
#university #college #student #education #students #study #studentlife #school #universitylife #collegelife #studyabroad #studygram #uni #photography #universit #love #instagood #instagram #graduation #motivation #covid #highereducation #memes #like #learning #science #bhfyp #campus #india #universitystudent