The estimated reading time for this post is 11 Minutes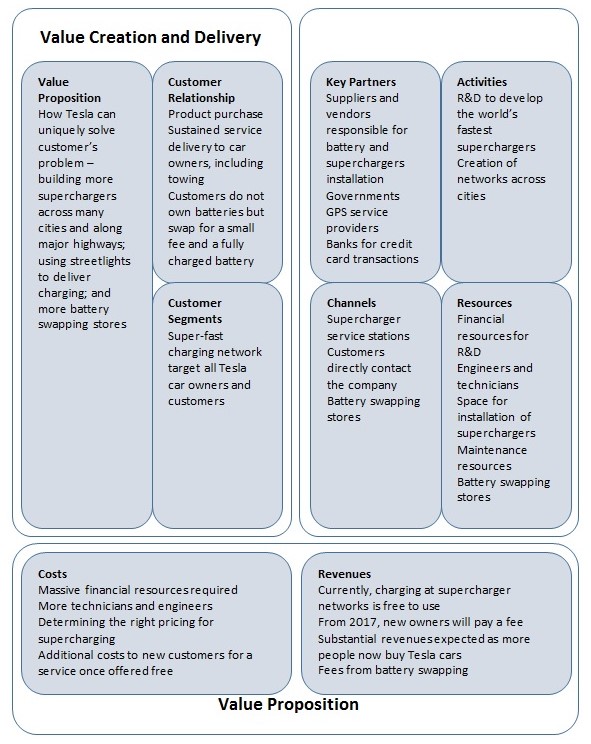 Problem Statement
Tesla is recognised as a manufacturer and retailer of the only all-electric vehicles in the global market that can offer a range of cars to compete with gasoline-powered cars. The company's customers, however, now face a critical challenge of getting adequate charge in their battery to cover significant miles, especially if the driver intends to cover a long distance. For this challenge, it is observed that high-speed car battery charging has been touted as the best solution as opposed to other charging systems that require over 12 hours to charge the big Tesla battery fully. Many Tesla customers have observed that getting to charge the car super-fast is quite difficult across many cities. One must drive across multiple neighbourhoods in attempts to find a charger, particularly when the GPS is out of service in such areas. Thus, the major challenge for many Tesla customers is that there are not adequate supercharger stations to recharge their cars fast enough. The problem of inadequate charging is further complicated on highways. Efforts to build many superchargers along major highways have been rather slow. This implies that using Tesla cars for long road trips remains a major challenge for most motorists.
Analysis of Situation
Tesla electric car is yet to become the mainstream car, although it is making inroads. As previously observed, the battery itself and recharging are the most challenging issues currently experienced. If Tesla can deliver a long-lasting battery with super-fast chargers across every city, just like with gas stations, then the company would deliver the car of the future that consumers will all experience. Tesla currently is investing heavily to realise this initiative. The issue is always how fast to deliver this innovative supercharger and scale up production and installation to meet the rising needs of electric car owners. A road trip further complicates the issue because of extremely few and far apart available charging stations. Many Tesla owners now struggle with the charging issue. Tesla has also gained popularity, but many considers it as a luxury carmaker. As such, some charging stations charge premium and, thus, it becomes expensive for many motorists. The price gouging tendencies have led to low usage of some stations and disappointment for motorists who purchased electric car to save on fueling costs. Moreover, stations also have different charging systems, which consume different time to charge a car fully.
Suggested Solution
Consumers appreciate the need to charge their electric cars much more easily. As such, Tesla requires innovation in supporting super-fast charging infrastructures. Some observers have proposed leasing a car battery rather than owning it. Referred to as the Better Place battery exchange, car owners can overcome technological drawbacks of limited travel range and longer periods of recharge for batteries (Tsang et al. 2012). Consumers will be charged based on the mileage covered across various networks of supercharging points where they can switch depleted batteries and replace them immediately.
Additionally, to support charging infrastructure, BMW innovative approach of upgrading streetlight to chargers by introducing an electric car charging solution and integrating them with streetlights will appeal to many owners of electric cars. The company refers to this solution as Light and Charge (Humphries 2014). This solution would allow any drivers of electric car to park up and quickly recharge their batteries. The system can be supported by a functional app for payment installed on a smartphone or the dashboard. Further, the app can alert owners when the car is fully charged. Such solutions can solve challenges associated with long road trips and lack of nearby charging stations. If this solution can work, then Tesla can also find it simple to provide charging solutions on major highways with streetlights and mobile signals.
The term servitization was introduced to define an increasing tendency of many manufacturing firms to provide services that went beyond their traditional core business of product development and manufacturing (Benedettini, Swink & Neely 2015). It is also known as product-service system or integrated solution (Wilkinson, Dainty & Neely 2009). The fundamental aspect of this definition is the additional services offered to complement a product sold to customers in order to enhance its value.
Tesla is a manufacturer caught in the web of after-sale service to its customers. In manufacturing, innovation and service provision have gained popularity. Consumers now demand enhanced product customisation and quick solutions to solve their immediate challenges. Academics and professionals have observed that products with value added services could improve profitability of a firm (Benedettini, Swink & Neely 2015; Lightfoot, Baines & Smart 2013). Particularly in advanced economies, adding services into products is seen as an opportunity for creating competitive edge for the manufacturer. This approach is seen as viable when product differentiation is minimal. Tesla, for instance, now faces competition from other electric car manufacturers. However, Tesla has opted to directly sell to consumers and provide related services, including charging stations. Based on service dominant logic (SDL), supplementary services directly improve the value of the physical product, which is seen as an object of providing services to consumers (Benedettini, Swink & Neely 2015). In product-service delivery, the process may involve co-production with the customer in which customer is seen as operant resource in the co-creation of value considered as distinct and difficult to imitate.
Additionally, service provision is now a source of constant revenues for many product manufacturers, and the margins generated from service charge in some industries, for instance, far much exceed the cost of a physical product sold to customers (Benedettini, Swink & Neely 2015; Ellis, 2011)). In the case of Tesla, when the company first introduced its superchargers more than four years ago, they were free for life. However, as expected, the company recently announced that it would start charging new customers for supercharging services once they exhaust 1,000 miles of free charging (Fehrenbacher 2016). The supercharger takes approximately 30 minutes to charge a battery fully relative to other chargers at home that consume hours, and it was seen as an opportunity to grow super-fast charging infrastructures. While free charging created a competitive edge for the company, charging for a fee is seen as a way to manage the growing demands, costs associated with production and installation of superchargers, and to drive sales of current car models that come with a free charging package. Further, the company expects to cut costs associated with new models by reducing costs of batteries as it positions itself in the mainstream market of electric cars to compete with other manufacturers.
Studies have also demonstrated that product-service integration is a way to increase customer satisfaction and improve customer relationships, thereby improving customer retention and loyalty (Benedettini, Swink & Neely 2015; Hutt & Speh 2014).
Some companies have succeeded in servitization and delivered commendable growth. On the other hand, despite the appeal of servitization, some researchers have observed critical failures in some companies attempting product-service integration. For instance, Siemen's service division was generally a loss-making arm, Intel's service based unit was folded after few years into operations, and Dürr's outsourcing service unit was not successful too. These few cases demonstrate challenges with servitization (Benedettini, Swink & Neely 2015). Wilkinson, Dainty, and Neely (2009) point out that some of these product-service integration models are vague. In some instances, such firms do not include customers in defining solutions to their needs. Effective servitization requires value creation that is seen and understood by the customer (Wilkinson, Dainty & Neely 2009). This implies that a reverse view must be adopted in value creation.
Tesla can actually excel in its servitization efforts. The company is a leader in the electric car market. While it has realised considerable number of supercharger stations and the Gigafactory to manufacture cheap battery, the company should carefully review its strategies to ensure that electric car becomes the mainstream vehicle in the next few years. By expanding charging infrastructure, the company can create competitive edge and realise the value of servitization. While Lightfoot, Baines, and Smart (2013) note a weaker linkage between technology and engineering to advance servitization, this certainly would not be a challenge for Tesla because the company is a technology cum a manufacturing firm. Firms such as Rolls-Royce, Caterpillar, Alstom, and MAN among others have achieved tremendous growth because of servitization (Lightfoot, Baines & Smart 2013). By introducing supercharging fees, Tesla can now see the value and opportunities of product-service integration. Moreover, the company has ensured that product-service bundling will always deliver desired results while easing electric car challenges.
Advantages (Benefits) and Disadvantages (Risks and Costs) of the Chosen Approach
The approach adopted for the case of Tesla is supporting supercharging infrastructure. The ultimately goals are to enhance service delivery, customer satisfaction and eventually position Tesla car models in the mainstream auto market.
For customers, Tesla would be using servitization to offer value by more customisation and high quality services. That is, delivering improved supercharger network across cities and major highways. Notably, the supercharger is from Tesla and is the fastest charger on planet for electric cars. This implies that customers would get value from Tesla's supercharger with distinct factory specifications for its models. The service element is seen as flexible and, therefore, the company can expand the charging infrastructure by adding new functionalities to meet needs of customers better. Since the introduction of supercharger stations, Tesla has been responsible for their operations and maintenance. In this case, related costs are removed from the customer and back to the company. In most instances, it has been observed that customers prefer value that solves their immediate challenges (Baines et al. 2007). In this case, expanded network of superchargers is certain value addition that customers would find extremely useful. Tesla is most likely to realise strategic marketing opportunities through its servitization, which can act as an alternative to the conventional standardized practices and mass production. The primary business advantage of product-service integration is an enhancement in total value for car owners by getting increased service elements. As such, competitive advantage is increased, for instance, it is not simple for any current Tesla's competitors to imitate and develop its superchargers and the network. Thus, it will only continue to deliver superior product-service package to customers (Schmidt, Bauer, & Mört 2015). Further, Tesla would also claim its enhanced environmental sustainability initiatives through product-service integration because it would be more responsible in handling used parts, recycling, take-back, and refurbishment to reduce waste by increasing product life. Such efforts will most likely improve customer acceptance of Tesla car models.
Tesla is also poised to benefit tremendously from servitization. The company will advance its technical knowhow and manufacturing capabilities in the new Gigafactory to determine novel ways of delivering better value in using products and services while depending on fewer resources, thereby reducing costs of operations and service delivery to consumers. At the same time, the company will be addressing concerns of customers, the public, producers, and governments through servitization (Baines et al. 2007).
While Tesla might desire to design, develop, and deliver additional superchargers across many cities and highways, the significant cost of superchargers are enormous (Sakao, Rönnbäck & Sandström 2013). For a young company struggling out of loss making, the desire to realise profitability for shareholders may deter mass production and installation of superchargers (Sheth & Sisodia 2015). Initially, the company had promised free for life charging, but the recent announcement that new models without that package will start paying for supercharging has shown difficulties associated with free services from manufacturers. Moreover, pricing offering could also be a challenge for Tesla, although the CEO declared that charging would be relatively cheaper. Customers will demand more as they start paying for superchargers (Kuo et al. 2010). Tesla may also face difficulties in structuring the company to manufacture and deliver more charging infrastructure to support the growing number of users across developed nations (Schenkl, Sauer & Mörtl 2014). Consumers must contend with additional charges and ownerless consumption, although this is the norm in vehicle products.
References
Baines, T, Lightfoot, H, Steve, E, Neely, A & Greenough, R 2007, 'State-of-the-art in product service-systems', Journal of Engineering Manufacture, vol. 221, pp. 1-11.
Benedettini, O, Swink, M & Neely, A 2015, 'Why do servitized firms fail? A risk-based explanation', International Journal of Operations & Production Management, vol. 35, no. 6, pp. 946-979.
Ellis, N 2011, Business-to-business marketing, Oxford University Press, Oxford.
Fehrenbacher, K 2016, Tesla will start charging for its fast charging network, Web.
Humphries, M 2014, BMW solves the electric car charging problem using street lights, Web.
Hutt, MD & Speh, T 2014, Business marketing management: A strategic view of industrial and organizational markets, Thompson, South Western.
Kuo, TC, Ma, H-Y, Huang, SH, Hu, AH & Huanf, CH 2010, 'Barrier analysis for product service system using interpretive structural model', International Journal of Advanced Manufacturing Technology, vol. 49, pp. 407-417.
Lightfoot, H, Baines, T & Smart, P 2013, 'The servitization of manufacturing: A systematic literature review of interdependent trends', International Journal of Operations & Production Management, vol. 22. no. 11/12, pp. 1408 – 1434. Web.
Osterwalder, A & Pigneur, Y 2010, Business model generation: A handbook for visionaries, game changers, and challengers, Wiley, New York.
Sakao, T, Rönnbäck, AÖ & Sandström, GÖ 2013, 'Uncovering benefits and risks of integrated product service offerings: Using a case of technology encapsulation', Journal of Systems Science and Systems Engineering, vol. 22, no. 4, pp. 421–439.
Schenkl, SA, Sauer, RM & Mörtl, M 2014, 'A technology-centered framework for product-service systems', Procedia CIRP, vol. 16, pp. 295-300.
Schmidt, D, Bauer, P & Mörtl, M 2015, 'Product-service systems for influencing customer barriers and customer acceptance', Journal of Economics, Businessa nd Management, vol. 3, no. 10, pp. 990-993.
Sheth, J & Sisodia, R 2015, 'Why good companies fail', European Business Forum, vol. 22, pp. 24-30.
Tsang, F, Pedersen, JS, Wooding, S & Potoglou, D 2012, Bringing the electric vehicle to the mass market: A review of barriers, facilitators and policy interventions, RAND Europe, Cambridge.
Wilkinson, A, Dainty, A & Neely, A 2009, 'Changing times and changing timescales: the servitization of manufacturing', International Journal of Operations & Production Management, vol. 29, no. 5, pp. 1-6.
#essaywriting #essaywritingservice #essaywritinghelp #essaywritingservices #essaywritinghelponline #essaywritingsucks #essaywritingskills #essaywritingonline #personalessaywriting #essaywriting101 #avoidingessaywriting #hateessaywriting #procrastinatingessaywriting #helpwithessaywriting #earlymorningessaywriting #andessaywriting #essaywritingmalaysia #2018essaywritingcontest #makingessaywritingfun #essaywritingcomplete #iamoveressaywritingalready #essaywritingtherightway #dodgingessaywriting #imsupposedtobeessaywriting #essaywritinglessonsbybrady #essaywriting️