The estimated reading time for this post is 8 Minutes
IKEA
IKEA was founded by Ingvar Kamprad in 1943 (Aaker, 1992).
It concentrated on fledging company sold fish, charismas magazines, seeds and later.
Later on it embarked on the selling and distribution of furniture, a venture that led to the growth and development of the company up to date (Bian and Moutinho, 2009).
The company expanded into Scandinavia in 1963 (Ford, 2005).
With increased success, the company expanded its operations to Western Europe, Asia and North America.
At the present moment, the company is operational in over 35 different countries, has over 285 stores and has a workforce of 127,800 individuals (Kotler, 1997).
The organization and management practices that are practices at IKEA are highly influenced by the founder of the company, Ingvar Kamprad (Paul and John, 1997).
The company is mission driven. Its main aim is to provide its customers with Democratic furniture. This is furniture that is of a great design, high quality but affordable to all individuals.
To ensure that the goals and objectives of the organization are achieved in the short run and in the long run, the founder ensured that all the employees at the firm adopt the cause of the organization (Romaniuk and Sharp, 2004).
The management strategy at IKEA has been and still is:
Formal.
Nonhierarchical.
IBased on team work (Biddle at al, 2003).
All the employees at the company have respect for one another (Bender, 2001).
There are is no special perks for managers.
Titles and privileges are a taboo.
The company highly values creativity from its employees (Beri, 2007).
It focuses on recruiting young individuals and training them within the system rather then employing highly qualified personnel.
Employees are motivated by the passion for the work and the conducive working environment rather than high salaries and benefits (Berry, 2009).
The employees work together as a team and maintain close ties with one another. This has led to the development of a strong bond among them (Freedman, 1999).
Due to this fact, they have been able to come up with strategies and ideas of improving their products and services.
The company has however refused to join the stock market (Sobel, 2005).
This is to avoid the pressures of profit realization from stakeholders that in turn acts as a setback for the future growth and development of the company.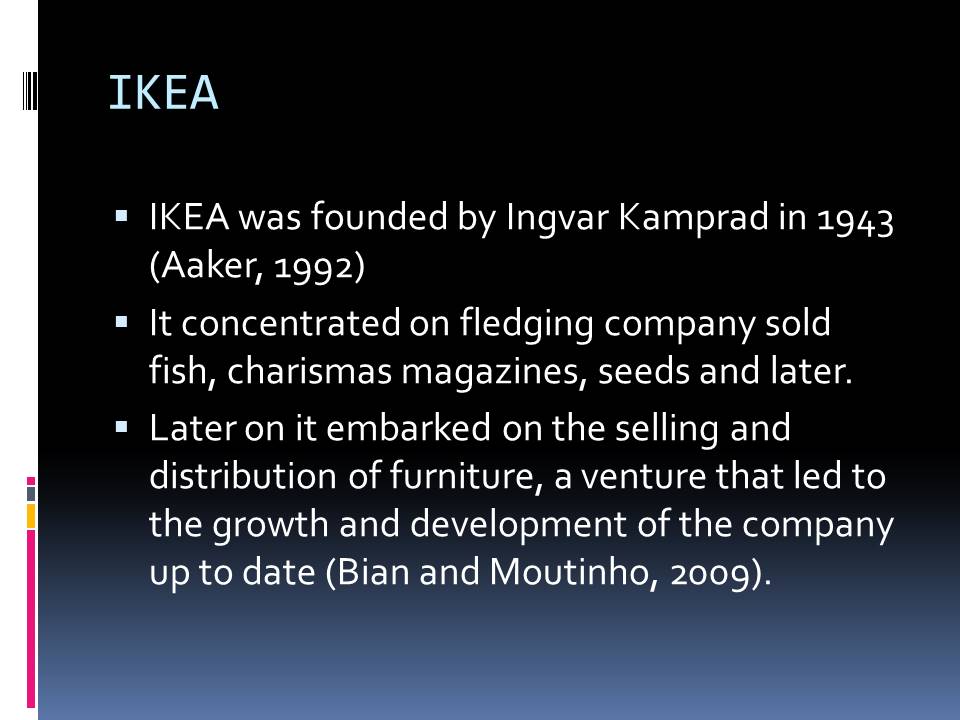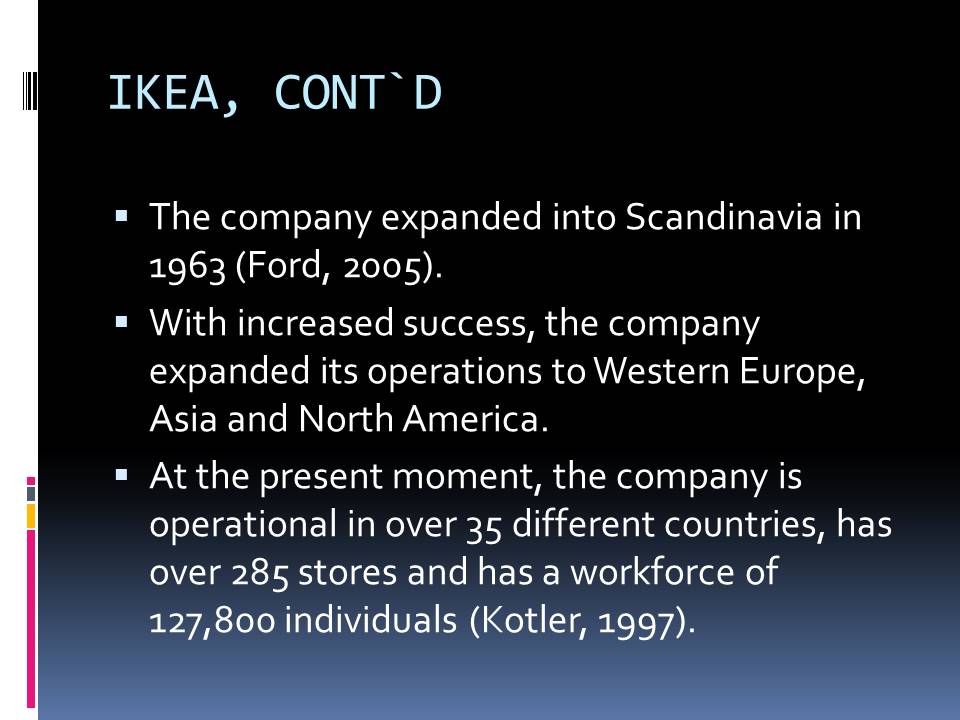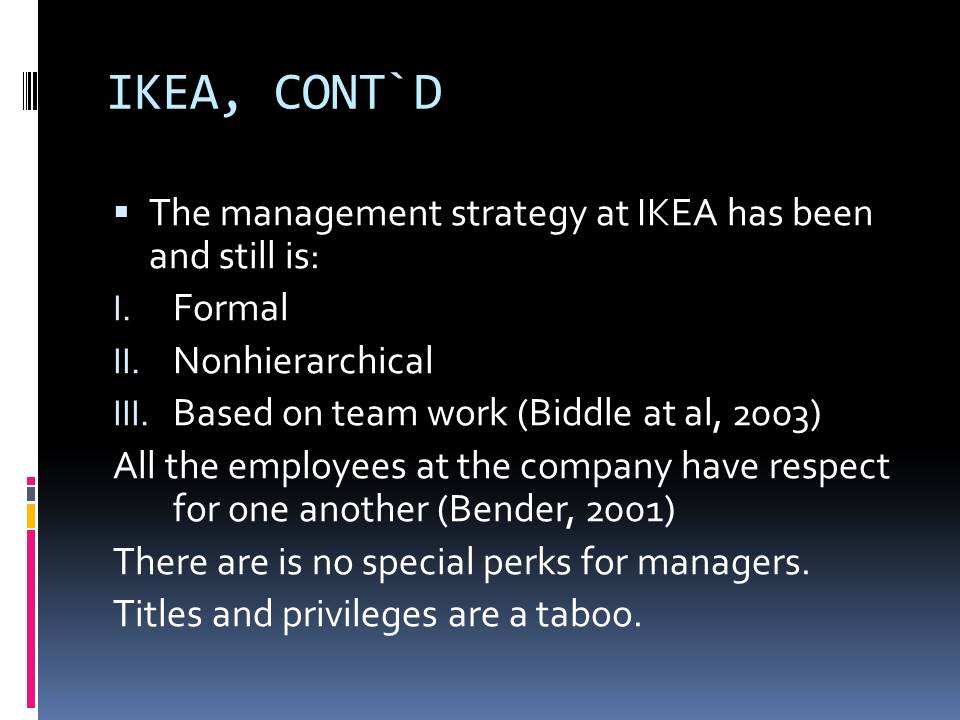 IKEA strategies
The main strategy that IKEA has is the identification of its target market.
The company has always been targeting middle class individuals who are in the 20s and 30s (Sobel, 2005).
This target group has the need and desire for products with the best design, high quality but affordable (Baker, 2008).
All these requirements meet the cause of IKEA.
The configuration of IKEA stores also ensure that customers spend as much time as possible and make a lot of purchases while there (Cross, 1997).
The stores are located outside town to avoid congestion, have multiple products in a single section, have a day care center to carter for the customer`s children, ample parking and a restaurant.
In addition, there is a maze where customers can pick up flat-packed furniture for self assembly at home.
The products at IKEA are readily available unlike other companies where a customer has to wait for several weeks for the arrival of their products.
For convenience, IKEA has a home delivery service.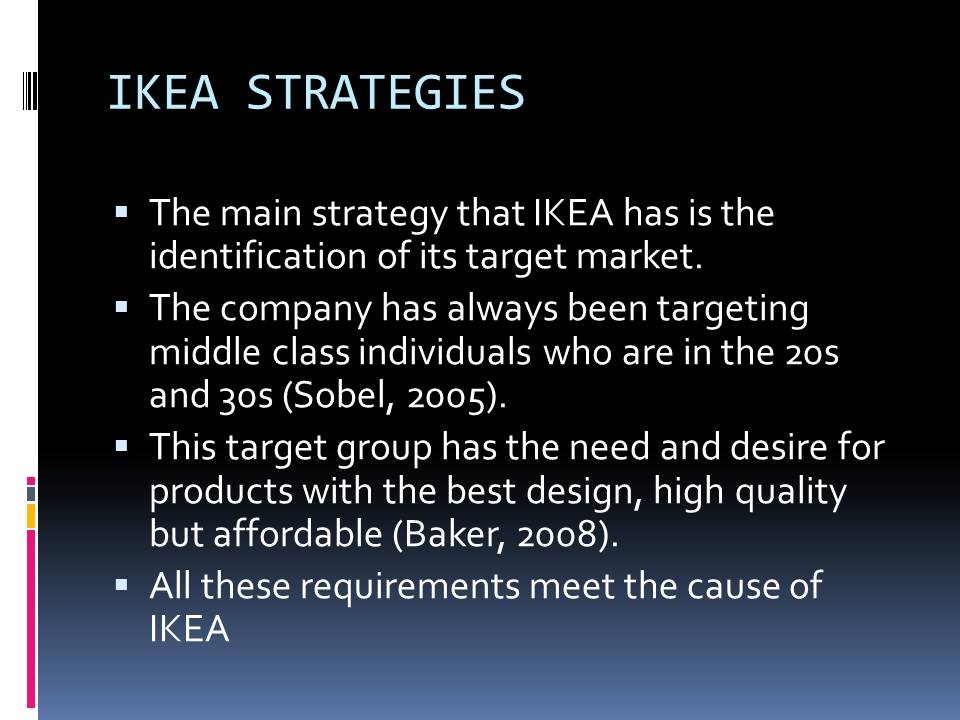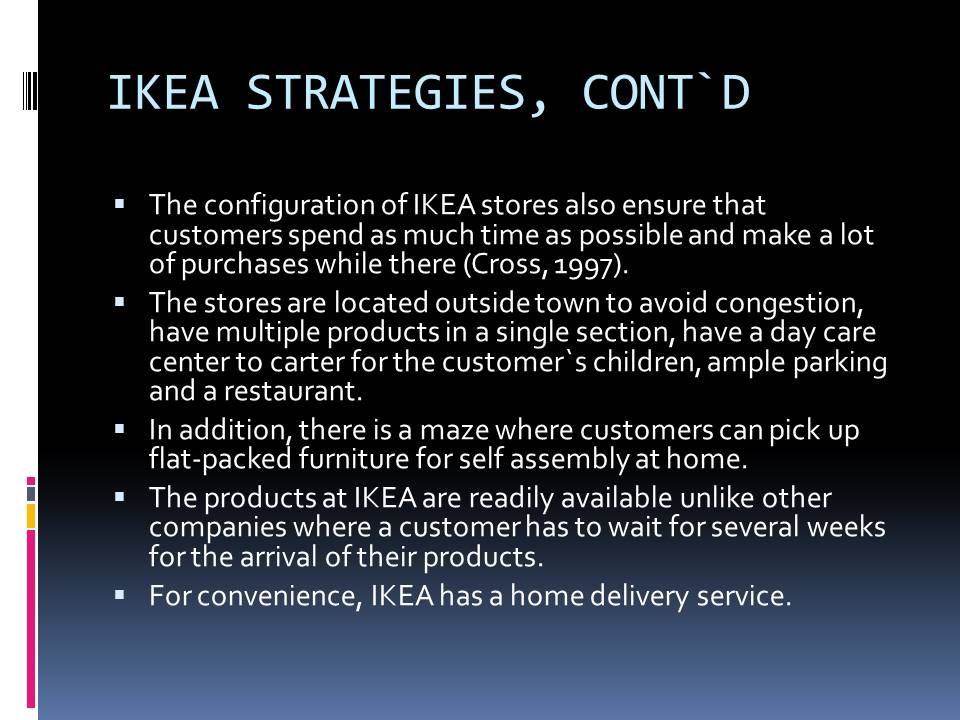 Global market
IKEA started its operation in Europe but managed to expand its operations in other parts of the world.
Porter`s five forces will be used to analyze the performance of IKEA in the market world.
Factors that will be considered include:
Suppliers.
Rivalry.
Threats of new entry.
Threats of substitutes.
Buyer power (Lou, 2010).
SWOT analysis has been used to determine the market viability of IKEA. It entails analyzing its strengths, weaknesses, opportunities and threats (Geistfeld, 2007).
The major strengths of IKEA lie on its internal management and organization, well planned strategies and presence of a large market (Ritter, 2000).
Its main weakness is the high costs it faces while transporting raw materials and goods to overseas markets.
IKEA`s entry into the US market was not successful at first (Peter et al, 2009).
Its products were not compatible to the American standards (King, 2011).
IKEA beds were measured in centimeters while Americans used King and queen sizes to measure their beds (Gofman and Mets, 2010).
People used flower vases as drinking glasses (Jugger, 2009).
In addition, pricing goods using the Kroner made them slightly expensive (Egan, 2000).
Targeting the middle class, having cheap products of high quality, easy entry into markets and chance for growth and expansion are the main opportunities of the company (Pride et al, 2011).
The company had been facing threats from its rivals such as Wal-Mart, Costco, Office Deport and Ethan Allen. However, the company has managed to outcompete all its rivals by offering products that are of a relatively high quality. They sell these products at a low price, a concept known as product democratization at IKEA (Nicolini, 2000).
In addition, they priced their products using the dollar. This reduced the selling price.
On the other hand the entry into china was successful.
They availability of cheap labor and raw materials made tremendously reduced the production costs.
The stores were also located close to public transport since most Chinese do not own vehicles (Pride et al, 2011).
The design of the products were of high quality. in addition, they had a resemblance to the Chinese culture.
This boosted sales and gave room for further expansion.
By the year 2008, IKEA had 1,380 supplies in 54 countries (Peter et al, 2009). Ensured that it attained its raw materials and other factors of production at the cheapest price. This thus ensured that the final products will be priced at a relatively cheaper price as compared to that of its rivals.
IKEA has been facing a lot of rivalry since its inception especially during its entry into the US market. However, it managed to outcompete its rivals by having high quality goods that are readily available at a cheap price (King, 2011).
The company faced minimal threats from the entry of new firms due to the strong base of establishment it had in all its markets (Gofman and Mets, 2010).
The substitutes of IKEA products are either of a lower quality or are highly priced. This gives the company an upper hand of winning, maintaining and attracting new customers (Jugger, 2009).
The buying power of IKEA`s target group is characterized by brand sensitivity and identity, high volume purchases and price sensitivity (Egan, 2000). To meet their needs, IKEA has a variety of products that are of high quality and pocket friendly.
Future of the company
From its humble beginnings in 1943, IKEA has grown to be one of the leading companies dealing with the sale and supply of furniture in the world. by 2008, the company had over 285 stores in 35 countries. the annual sales for the company during that year was £ 21.2 billion (Mullins, 2010).
Despite the growth and success that the company is enjoying, the change in consumer trends that is currently being faced in the globe may affect its operations.
The company may also face increased competition and stiff barriers of entry into new markets.
IKEA therefore needs to conduct a market survey to determine the needs and requirements of its customers.
The company also needs to embrace and apply technology, in its operations; from management to manufacturing (Swamidass and Newell, 2007).
At the same time, the company needs to expand its operations into new markets. It is projected that IKEA will be opening 20-25 stores annually in the foreseeable future (Schein, 2005).
This will guarantee the sustainability of the company in the long run.
Interactive questions
What have been the main factors that have increased IKEA`s competitive advantage?
What is the secret of IKEA organization and management?
How has IKEA managed to maintain low prices for its goods and yet maintain their high quality?
What are the future expectations of IKEA?
References
Aaker, D.A. (1992) The Value of Brand Equity. Journal of Business Strategy, 13 (4), 27-32.
Baker, J. (2008) The Strategic Marketing Plan Audit. New York, Pearson.
Bender, T. (2001) Community and Social Change in America. New Brunswick, NJ: Rutgers University Press.
Beri, M. (2007) Marketting Research. Tata McGraw-Hill, New Delhi.
Berry, L. (2009) Relationship Marketing of Services, Growing Interest and Emerging Perspectives. Journal of the Academy of Marketing Science, 23, 236–245.
Bian, X. and Moutinho, L. (2009) The Role of Brand Image, Product Involvement, And Knowledge in Explaining Consumer Purchase Behavior of Counterfeits Direct and Indirect Effects. European Journal of Marketing, 45 (1), 191-216
Biddle, J.E., Davis, J.B., Samuels, W.J. (2003) Contributions of Medieval Muslim Scholars to the History of Economics and their Impact: A Refutation of the Schumpeterian Great Gap. A Companion to the History of Economic Thought. Malden, Bradshaw.
Cross, R.G. (1997) Revenue management: hard-core tactics for market domination. Washington, Broadway Books.
Egan, J. (2000) Relationship Marketing. ã Harlow: Financial Times Prentice Hall.
Geistfeld, L.V., Sproles, G.B. and Badenhop, S.B. (2007) The Concept and Measurement of Hierarchy of Product Characteristics. Advances in Consumer Research, 4, 302-307.
Gofman, A. and Mets,T. (2010) Consumer Behavior. Journal of Consumer Marketing, 27 (2), 157–168.
Ford, K. (2005) Brands Laid Bare: Using Market Research for Evidence-Based Brand Management. John Wiley and Sons, Michigan.
Freedman, H. (1999) Chinese copycats are leaving international brands fit to be tied. Forbes,163, 48-54.
Jugger, S. (2009) The Power of Consumers. Admap Magazine, 14 (2), 51-55.
King, M. (2011) Public Policy and the Corporation. London, Chapman and Hall, Ltd.
Kotler, P. (1997) Marketing Management. Prentice Hall, Englewood Cliffs, New Jersey.
Lou, Y. (2010) Entry and Cooperative Strategies in International Business Expansion. London, Greenwood Publishing Group.
Mullins, L.J. (2010) Management & Organizational Behavior. Financial Times, Prentice Hall.
Nicolini, D. (2000) Organizational Learning; Journal of Management Studies, 37 (6), 783-795.
Paul, H. and John, M. (1997) The relationship of reputation and credibility to brand success. Pricing Strategy and Practice, 5 (1), 25-29.
Peter. J.P., Olsen. J.C. and Grunet. K.G. (2009) Consumer Behaviour and Marketing Strategy. European Edition, Mcgraw-Hill international.
Pride, M., Hughes, R.J. and Kapoor, R.J. (2011) Business. Cengage Learning, Portland.
Ritter, L.S. (2000) Principles of Money, Banking, and Financial Markets. Addison-Wesley, Menlo Park.
Romaniuk, J. and Sharp, B. (2004) Brand Salience: What is it and why it Matters. Report 16 for Corporate Members. Adelaide, Ehrenberg-Bass Institute for Marketing Science.
Schein, E.H. (2005) Organization Culture and Leadership. Jossey-Bass, New York.
Sobel, J. (2005) A Theory of Credibility. Review of Economic Studies, 52, 557-73.
Swamidass, P.M. and Newell, W.T. (2007) Manufacturing Strategy, Environmental Uncertainty and Performance. Management Science 33 (4), 509–524.
#university #college #student #education #students #study #studentlife #school #universitylife #collegelife #studyabroad #studygram #uni #photography #universit #love #instagood #instagram #graduation #motivation #covid #highereducation #memes #like #learning #science #bhfyp #campus #india #universitystudent