The estimated reading time for this post is 4 Minutes
Heineken Background
Heineken International is the maker of the world-famous Heineken Beer and is the second-largest brewer in the world, a feat it has achieved by buying out smaller firms like S&N International, Bulmers Ciders, and recently including even large firms such as FEMSA and Amstel (Heineken International, 2010, p. 11). With many breweries spread out across the world, the company has organized itself into five territories that are split into regions. Besides Heineken Beer, the company brews and sells more than 200 beer brands in local and international markets; these brands include Heineken Pilsener, Tiger Beer, Birra Moretti, and Zagorka among others. The company has established plants in all of the six continents.
History
Heineken International is a Dutch beer-making company formed in 1864 by Gerard Adriaan Heineken in the Netherlands and has its headquarters in Amsterdam (Heineken International, 2010, p. 1). The company's statistics as of 2007 indicates that it has 115 breweries in more than 65 nations and its workforce is approximated to be 55,000.. Heineken Beer has been mass imported in the USA since 1933 and since Heineken USA was established in 1995, it has gone on to be a leader in total beer imports in the US. Other Heineken company brands sold here include Newcastle Brown Ale and Amstel Beer (Heineken USA, 2007, para. 2).
Heineken International
Heineken International has had an excellent financial performance in recent years, registering a profit of € 1,028 million in 2009, up from € 209 million in 2008 while the revenues remained fairly constant during the same period, at € 14,319 million and € 14,701 million in 2008 and 2009 respectively. Europe accounts for the highest production of beer in the world while the US comes in at sixth after Britain, France, Hungary, Czech Republic, and Ireland. Heineken is also the most popular beer in the US and is only second to Corona Extra. Within the US beer market, light beer constitutes almost 50% of the total consumption. In 2006, Heineken USA imported a third of the total beer imports in the US and became the second-largest importer of light beer.
Corporate Design
Heineken has two logo designs: the Authenticity logo and the Star-Heineken logo. The Authenticity logo was particularly created to show and strengthen the brand's brewing quality and legacy. This logo is mainly used in beer related products such as the Heineken Beer.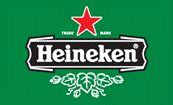 The Star-Heineken logo was designed to communicate and strengthen the modernity and vivacity of the brand. It is mainly used in communication, and corporate and social activities, for example, the UEFA Champions League, the European Rugby Cup and the Latin Grammy Awards. This logo on a green background is normally placed on a white background as this exhibits the image of the company.

Both of these logos come from the Heineken racetrack label that gives beer the visual identity and this has contributed to the brand's success in local and international markets.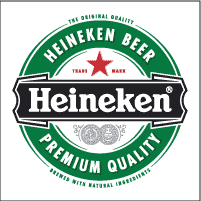 All of these logos consist of a fivefold star and the Heineken word, mostly on a green background and this makes the brand to be one of the most recognizable in the world. As seen on the logo itself, all the three letter e's in Heineken are slant backwards a little, making them appear to be 'happy' (Goodlogo, 2009, para. 2). Freddie Heineken created this design in an attempt to appeal to more persons. This has succeeded in creating a global Heineken brand, not just as a maker of quality products, but even for its corporate and social responsibilities (CSR) such as fighting HIV-AIDS in Africa and combating underage drinking around the world.
Heineken's Core Values and Vision
Heineken's vision is to "Make Sure that Heineken Beer is Available Even in the Remotest Areas of the World" and to achieve this, the company has put in place several measures some of which are business related while some are needs related but both aimed at achieving the vision. The first strategy is the opening of several brewries aound the world; as of 2009, the company had more than 115 breweries in 65 countries thus giving it a global representation. These brewering plants are located in each of the six continents and apart from the Heineken brand, these plants brew other local brands.
Another strategy employed by the company in achieving its goal is by encouraging its customers to drink at home. Consumers can therefore purchase their beers and move it to their homes where it may be unavailable. This strategy was cemented by numerous advertisements on the visual media, these include the Walk-in Fridge and the Heineken Walking Fridge adverts (Vaksen, 2009, para. 1). This strategy was recently given a boost when Heineken and Groupe SEB collaborated to create a beer dispenser to be used at home, it is known as the BeerTender® system. This appliance is connected to a mini keg cylinder (4 liters) and keeps the beer fresh and cold.
Heineken also collaborates with other companies in making the Heineken beer available in most places as seen by its recent move to collaborate with Efes Breweries International N. V. to open up a joint venture in Kazakhstan and Serbia. This increases the beers available in Asia and the Middle East respectively.
Reference List
Goodlogo. (2009). The Heineken logo.
Heineken International. (2010) Heineken History. Web.
Heineken USA. (2007). United States Beer Industry Overview. Web.
Vaksen. (2009). Heineken's Walking Fridge.
#university #college #student #education #students #study #studentlife #school #universitylife #collegelife #studyabroad #studygram #uni #photography #universit #love #instagood #instagram #graduation #motivation #covid #highereducation #memes #like #learning #science #bhfyp #campus #india #universitystudent