The estimated reading time for this post is 37 Minutes
Introduction
HealthStream is an internet-based learning and research company that provides training, information, and education solutions for the healthcare industry. The company's business is in two industries, represented by, HealthStream Learning and HealthStream Research. According to the company's 10-K filing, HealthStream Learning takes care of the "training, information and education" related needs of the healthcare industry. On the other hand, HealthStream Research provides healthcare organizations with "surveys, analyses of survey results and other research-based services" (10-K, 2009). Headquartered in Nashville, Tennessee, the company employs around 300 people and in 2009 had total revenue of $57.39 million, an increase of 11.2% over 2008. HealthStream operates in a highly volatile industry and faces a constant threat of losing its customers to competitors and substitute products. Of its two main services, HealthStream Research is still new and yet to start providing returns to HealthStream. On the positive side, the company has a high cash flow and zero long-term debt, giving it resources to further expand and invest in its brand name. To counter the threat of competition, HealthStream might want to look into expanding its existing services so that customers can find all healthcare-related solutions in one place. Also, the company has exclusive focus on the healthcare industry, which severely limits its growth potential. HealthStream may also want to look into diversifying into other industries through strategic acquisitions.
History
HealthStream was incorporated in 1990 and began providing its internet-based solutions in 1999. In October 1999, Robert Frist Jr., the Chief Executive Officer of HealthStream, filed with the Securities and Exchange Commission for an initial public offering (Pelofsky, 1999). In 2000, HealthStream signed a $3 million pact with WebMD to promote its services on the Latter's professional website (HealthStream Inc. Reaches Pact, 2000). The company has grown over the years through strategic acquisitions. In 2000, HealthStream acquired Synquest Technologies and a year later De'MEDICI Systems, two companies in the business of producing and providing online and computer-based training and education to healthcare industry (Datamonitor).
Although HealthStream started offering online classes at the height of dot-com boom, the company did not go bust when the dot-com bubble burst in 2000. Instead, it continued to grow and by November 2001, HealthStream had figured on Deloitte and Touché's list of 500 fastest-growing companies in North America and had received a rank of 323 (Business Wire). HealthStream continued with its expansions plans sighing up with over 1100 healthcare providers over the years and making further strategic acquisitions. In 2005, the company acquired Data Management and Research (DMR), a provider of surveys, survey analysis for healthcare organizations. In 2007 it acquired, the Jackson Organization (TJO), a provider of healthcare research. In 2007, HealthStream also entered into partnership with Laerdal Medical Corporation, to offer cardiopulmonary resuscitation (CPR) and emergency cardiovascular care (ECC) training programs (Datamonitor). In 2009, HealthStream entered into a mutually beneficial partnership with Quorum Health Resources, a healthcare consulting firm.
Nature of the Company
HealthStream is an online service provider for the healthcare industry. Owing to the busy schedules of healthcare providers, many of them do not have the time necessary to keep them updated with the latest technologies. Before the internet era, healthcare providers often attended seminars and conferences to keep them abreast with the latest developments in the healthcare industry. HealthStream provides an easy alternative that can be easily accessed by the busiest of health workers including nurses, paramedics, pharmacists and medical representatives. As explained in the company's 10-K filing (2009), continuing education is crucial for healthcare professionals as it helps them learn about the latest technological developments and meet other requirements related to "licensing, certification and credentialing". Many hospitals also need and utilize survey and analysis tools to help them understand patients' points of view and to determine workforce competency and engagement. The interest in such surveys is on the rise, especially after the Deficit Reduction Act of 2005 which requires hospitals to submit data regarding certain quality measures, including hospital surveys for inpatients (HealthStream.com). HealthStream offers products and services to take care of these needs for hospitals and other healthcare providers.
HealthStream's mission statement is available from HealthStream's Accredited Education web page. The mission statement is to "improve the public health by educating the healthcare community, maintain an unwavering commitment to the quality of our activities and generate positive patient outcomes" (Accredited Education, HealthStream, n.d.). The mission statement of the company is available from HealthStream Research's Knowledge Network site. The vision statement is "to improve the quality of healthcare by developing the people who deliver care" (Knowledge Network, HealthStream, n.d.). As the company has grown over the past ten years, it has focused on strategic acquisitions to make itself competitive and emerged as the industry leader in healthcare continuing education segment. It has expanded its product offering to provide continuing education to all sections of the healthcare professionals from physicians and nurses to pharmacists and medical representatives. HealthStream's original business was continuing education for the healthcare industry and it entered the healthcare research segment only in 2007 after the acquisition of DMR and TJO. This was a strategic move in response to the Deficit Reduction Act of 2005. Such surveys are not only important for hospitals to conform to law but they also help HealthStream meet its mission. Patient feedback and well-trained healthcare workers are crucial to ensuring quality healthcare. The various services and products provided by HealthStream and the partnerships and acquisitions that the company has carried out over the years, help it meet its mission by providing holistic solutions to the healthcare industry's education and information needs.
Business Strategy and Business Model
The two segments of HealthStream's business are HealthStream Learning and HealthStream Research. These two segments together "help healthcare organizations to meet their training, education, information and compliance needs" (10-K, 2009). Well-trained healthcare professionals are essential for improving the quality of healthcare and surveys and feedbacks provide an insight into things that need to be improved so as to provide better service. Since healthcare is a service industry, customer satisfaction is extremely important and HealthStream provides healthcare organizations with the tools to help them improve customer service.
HealthStream's business is in an industry with a huge scope for growth. The healthcare industry is a $2.3 trillion industry and employs about 14.3 million professionals. Of these, about 5.6 million are employed by hospitals, HealthStream's target market. The firm has a huge scope for further growth since all of the 5.6 million workers employed by hospitals are required by law to complete training in some areas. They must also keep themselves updated on the latest breakthrough in the healthcare and field and be trained to use the latest technologies. Given the busy schedules of healthcare workers, attending full-time classes is often not possible for many of these professionals. HealthStream provides a service that caters to these extremely busy professionals who need continuing education so as to be better able to do their jobs.
The shortage of healthcare professionals has created yet another group of HealthStream customers. In absence of new workers in the profession, the existing workforce needs to be developed and provided additional competency training to handle the unique challenges faced by every hospital. Hospitals are increasingly providing training and education to professionals to retain existing workforce and provide an incentive for new employees. This kind of strategic learning can help hospitals overcome the worker shortage and provide HealthStream with an opportunity for further expansion.
Besides hospitals, HealthStream's customers include pharmaceutical and medical device companies (10-K, 2009). When these companies come up with a new drug or a new medical device, they have to spend millions of dollars to educate hospitals and healthcare professionals about their products. HealthStream had collaborated with these companies to help them during a new product launch by providing market education within HealthStream's network of hospital customers (Adobe Success Story).
Increasingly, hospitals are using surveys as a tool to gain insight into what patients want and to assess the competency of their workforce (10-K, 2009). Sometime back, Centers of Medicare and Medicaid Services (CMS) along with Agency for Healthcare Research and Quality (AHRQ) had launched Consumer Assessment of Healthcare Providers and Systems (CAHPS®) Hospital Surveys, resulting in an industry-wide increase in interest in surveys. Additionally, the Deficit Reduction Act of 2005 requires hospitals to submit CAHPS® in order to receive full reimbursement payments from CMS (10-K, 2009). HealthStream is certified to offer CAHPS® Hospital Surveys, thus opening an important stream of revenue for the company.
HealthStream has built its business on these economic and compliance-related needs of the healthcare industry. The company has made strategic acquisitions and forayed into new business solutions such as healthcare as research in direct response to the business needs of the healthcare industry. These quick and timely responses to the education, training and information-related needs of the healthcare industry have helped the company grow even during the current economic recession. As a matter of fact, healthcare industry is one of the few industries that have not been affected by the economic recession. By offering tailor-made services to the various healthcare organizations, HealthStream has not only managed to avoid the recessionary effects of the current economic environment, but has also exploited the latest technology and come up with proprietary software to ensure that it remains at the leading edge of the healthcare continuing education and research industry.
As mentioned above, Health stream has two major segments in which it does its business. Let us discuss these two segments in detail to understand HealthStream's business.
HealthStream Learning: According to the HealthStream's 10-K filing (2009), HealthStream Learning uses the internet to provide training and education to the healthcare industry. The main tool that HealthStream uses to provide its online services is the internet-based HealthStream Learning Center (HLC) and its advanced version HealthStream Express. HealthStream hosts its courseware in a central data center from where its subscribers can access it by logging on to the system via internet. At present, the company has over 2 million healthcare professionals contracted to access the HLC service.
In 2003, HealthStream introduced the HealthStream Authoring Center. The tool allows users with no technical expertise to easily create and self-publish course material for their organizations. The HealthStream Authoring Center is simple to use allows users to build new course material using a simple drag and drop interface. Users can create their course material in Microsoft Word, Excel or PowerPoint and simply drop the file into the Authoring Center to publish it for the organization. The tool automatically provides a variety of assessment options and tracks and reports the students' completion of the course (Business Wire, 2003). HealthStream also provides its customers the option to share their course content with other HealthStream customers through courseware exchange functionality.
In 2009, HealthStream implemented the HealthStream Competency Center (HCC), which helps HealthStream's customers to "assess competency and appraise performance" (10-K, 2010). Although the product was launched only in a pilot version, it holds the potential to help healthcare organizations meet its accreditation requirements.
HealthStream Research: HealthStream Research is a recent addition to the services offered by Healthstream having been introduced in 2007 after the strategic acquisitions of DMR and TJO. The launch of HealthStream Research was a strategic move in response to the federal requirements following the Deficit Reduction Act, 2005. The acquisition of DMR and TJO, which had complimentary products and customer bases, allowed HealthStream to enter the research market with a full-service product offering (Health and Medicine Week, 2007). The service does not just carry out surveys but also analyses the survey results to provide insight and recommendations to change the services for better.
Recently, the company launched Insights Online, a new analytics and reporting website that offers research solutions via Software as a Service (SaaS). The site allows HealthStream's hospital-based clients to find and share information (Wireless News, 2010). Insights Online is a brilliant idea that integrates HealthStream's learning solutions with the research results. The data from HealthStream Research surveys are analyzed and based on the analysis, Insights Online suggests customized learning solutions from its course catalog. This new strategy allows HealthStream to not only provide customer-requested solutions but actually identify issues with current practices and offer solutions from its course catalog.
HealthStream's business strategy is simple and straightforward. The healthcare industry is constantly needs to keep itself abreast not only with the latest innovations in the healthcare field but also with healthcare-related regulations. This need in the healthcare industry had existed for decades. HealthStream's genius was to identify the need and provide a single-stop solution to take care of it. Unlike its competitors, Healthstream has focused only on the healthcare industry, allowing it to offer customized products to its customers. It charges its services on a subscription per subscription basis so that various healthcare organizations only pay for those services which they need.
Since HealthStream offers its services in a very niche field, when it first started its services, it needed innovative methods to attract customers. The partnership with WebMD allowed it to get the required exposure among the healthcare providers. In the last 10 years, the company has grown steadily by understanding the needs of its customers and providing solutions that fulfill these requirements. This customer orientation has allowed the company to succeed in this extremely niche industry.
Competition
HealthStream operates in the healthcare education industry, which is a highly fragmented industry. Healthcare professionals have a host of options to get the latest information about the developments in their field. There are a number of delivery methods that various players in the healthcare education industry use. Some of these methods are printed material, CDROM, live events such as conferences, satellite broadcasts and online products. Traditionally, healthcare professionals have relied on medical journals and conferences to take care of their continuing education needs. However, the rapid advance in the medical field in the recent years has meant that healthcare professionals have had to move to other faster ways of learning about the latest technology. Internet remains an easily accessible way of getting this information. Unfortunately, healthcare professionals are extremely busy people and are hard-pressed for time. Additionally, it can often become difficult to keep track of education they need and that they have already received. Besides the inconvenience, the traditional methods are also typically costly. HealthStream fills this gap by providing services that quickly assess every professional's continuing education needs and suggesting the courses they need to take to remain up-to-date. Despite this unique advantage offered by HealthStream, many professionals remain reluctant to use HealthStream's products and prefer to use the traditional methods, mostly because they are comfortable with the offline traditional methods of continuing education. Although the traditional delivery methods provide a formidable challenge, the trend is increasingly shifting towards online methods of continuing education and HealthStream is the industry leader in this field.
Besides the different delivery methods, HealthStream also faces direct competition from several firms which are in the field of providing online healthcare education. HealthStream's Annual Report identifies SABA Software, SumTotal Systems, Cengage Learning and Reed Elsevier Group as its major competitors. However, Hoovers identifies several other companies which can be in direct competition with HealthStream including A.D.A.M. and Medscape LLC. Both these companies cater to the education needs of the healthcare industry.
In the research segment, HealthStream has competition from "nationally recognized survey research firms such as Press Ganey Associates, National Research Corporation, Gallup, and others" (10-K, 2009). Both Press Ganey and NRC specialize in healthcare industry-related surveys thus giving direct competition to HealthStream Research.
I will now carry out a competitive analysis of HealthStream in the online education industry. In this industry, HealthStream's key competitors are A.D.A.M., Saba Software and SumTotal Systems.
A.D.A.M.: A.D.A.M. "provides health information and services for consumers, media companies, employees and healthcare professionals" (Hoovers, n.d.). It provides this information through interactive tools that provide information on diseases, symptoms, treatments and surgical procedures. This information is available even for lay consumers who may be interested in certain diseases due to personal reasons, though healthcare professionals may also want to use it. The company has a huge reference library that helps in providing this information to the consumers. Besides Health solutions, A.D.A.M. also offers solutions for brokers and employers. Although A.D.A.M. has a higher focus on healthcare solutions, it has also diversified into other fields and provides HR solutions to brokers and employers (A.D.A.M. Annual Report, 2009). The bulk of A.D.A.M. revenues come from licensing its software solutions to companies. However, historically, the company has focused on CD sales for its product revenues. With an industry shift from CD-based products to online products, the company is now investing in Web-Based education content (Hoovers, n.d.).
Saba Software: According to Saba Software's website, the company provides people management solutions to more than 1,300 organizations and 17 million users worldwide. It helps develop human resource and aligns workforce goals with organizational strategy. To this end, the company has several product offerings that address all aspects of strategic people management. The company is operative in a number of industries including academic, healthcare and life sciences. Saba provides comprehensive management solutions to develop the workforce which includes developing skills and knowledge of professionals and helping healthcare organizations with regulatory compliance. Financially, Saba Software is not doing well and over the years it has accumulated deficits of about $209 million. Additionally, during the fiscal year 2009, 13% of its subscribers chose to not renew their agreements with company. Its poor financial performance coupled with loss of customers may affect its goodwill. Currently the company carries a goodwill balance of $36 million from past acquisitions. There is a real risk of this goodwill becoming impaired and further affecting the company's profitability (Hoovers, n.d.).
SumTotal Systems: SumTotal Systems provides talent development solutions to more than 1500 companies worldwide including well-known companies like Accenture, Aetna, Delta Airlines, Microsoft, Vodafone, US Army, US Air Force and US Coast Guard (SunTotal Systems, n.d., www.sumtotalsystems.com). The company specializes in corporate solutions which help employees improve their proficiencies and productivities besides educating employees in regulatory compliance.
The table below gives a comparison of the key financial figures of HealthStream, A.D.A.M., Saba Software and SumTotal Systems. All figures in USD.
Table 1: Comparative Finances of HealthStream and competitors in healthcare education industry
As can be clearly seen from the above table, HealthStream's net income is of $13.9 million is way above its two main competitors, A.D.A.M. and Saba Software. SumTotal Systems, which is a private company, has much higher Revenue and Net income.
Strategic Group Map: Given below is a Strategic Group Map of HealthStream and its key competitors in workforce education industry.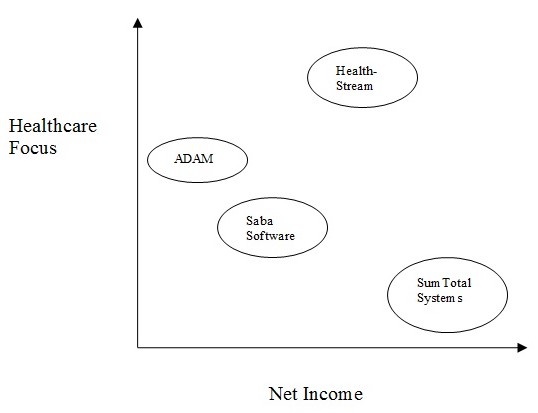 As can be seen from the above figure, HealthStream has a high focus on the healthcare industry while its top competitors' focus is on providing workforce education and regulatory compliance across several industries. While HealthStream focuses on educating healthcare professionals in the latest advancements in the healthcare industry and helps them meet their accreditation requirements, its major competitors like SumTotal and Saba Software provide much more holistic employee development solutions in a wide range of industries with no particular focus on any one industry. A.D.A.M. has a higher focus on healthcare but the company is not diversifying into other industries. Also A.D.A.M. main source of revenue is through CD sales and does not as yet have a well-developed web interface. As such, in highly focused healthcare education industry, HealthStream has little direct competition. As far as providing customized learning solutions is concerned, HealthStream is the only company in the organization which provides this service. Yet, with A.D.A.M. starting to focus on developing its web interface, it may pose a serious challenge to HealthStream's lead in the healthcare education field.
As far as the finances are concerned, HealthStream is financially much better positioned than most of its competitors. Both Saba Software and A.D.A.M. are operating at a net loss. SumTotal Systems is financially better positioned than HealthStream but it is a private company. HealthStream also has a negligible long-term debt and just over $4000. Additionally, according to HealthStream's Annual Report, the company has significant net operating loss carryforward which will continue to help it reduce tax expenses.
Based on this analysis, in the healthcare education industry, HealthStream currently has the strongest position followed by Saba Software. Saba Software has a significant presence in Healthcare industry and despite financial losses can pose a major challenge to HealthStream. Sum Total Systems is ranked third. Although it does not have tailor-made solutions for the healthcare industry, it has significant resources and experience to create problems for HealthStream. A.D.A.M. is ranked fourth among the companies under analysis because it does not have a significant web presence and does not provide customized health education solutions. A.D.A.M. is mainly in the business of providing diagnostic solutions and has a long way to go before it can pose any serious challenge to HealthStream. Additionally, A.D.A.M.'s financial position is also not very good, having suffered net operating losses in recent years.
I will now discuss HealthStream's competitive position in the healthcare research industry. In this industry, HealthStream's major Competitors are NRC, Press Ganey and Gallup.
National Research Corporation: NRC is dedicated to providing research services solely to the healthcare industry. The company's clientele includes over 2000 hospital facilities and 6000 long-term care providers besides numerous leading managed care providers. NRC also has significant reach in the number of patients it surveys each year. Its services provide research and survey in several fields including workforce and leadership, Governance, Marketing and customer satisfaction.
Press Ganey Associates, Inc: Like NRC, Press Ganey is also exclusively focused on the healthcare industry, providing surveys and reports to hospitals and medical practices. It also provides best practice consultancy and hosts conferences and workshops to train healthcare providers in the latest developments in the industry. According to Hoovers (n.d.), the company has over 7000 clients including 130 healthcare systems.
Gallup: Gallup is a leading organization carrying out research and behavioral surveys. They are best known for their polls but they offer a wide range of services including Consulting, Daily News. Gallup also provides management and leadership-related education and produces Gallup Management Journal a monthly online publication aimed at business leaders. Its client list is diverse and is drawn from a variety of industries including healthcare, automotive, banks and retail (Hoovers, n.d.).
Below is the Strategic Group Map of the HealthStream's major competitors in the Healthcare research industry: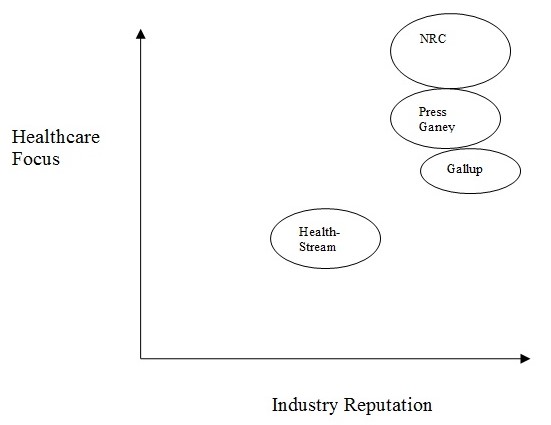 As is clear from the Strategic Group Map above, HealthStream still has a long way to go in the healthcare research industry. However, we must note that HealthStream entered the healthcare research industry only in 2007. Hence, it has not yet reached the maturity to compete with established firms like NRC and Press Ganey. HealthStream's strategic acquisitions allowed it to enter the industry, but in order to provide any meaningful challenge to the established firms, it will have to do a lot more than it is doing at present.
Macro-Environmental Analysis
Since HealthStream is in the business of providing education and research-based solutions to the healthcare industry, any macro-environmental factors that affect the healthcare industry will have direct consequences for HealthStream. The US healthcare industry is going through trying terms. Healthcare costs are at an all time high and there is increasing pressure to reduce these costs. So far the current economic recession has not had any effect on the healthcare industry and healthcare professionals have not had to resort to severe cost cutting measures.
The healthcare industry is an extremely fragmented one. According to IBIS, the four largest organizations in the industry account for only 8% of the revenues. The projected industry revenue for 2010 is around $732 million. This accounts for about 42% of all revenue generated by the healthcare industry (IBISWorld, n.d.). The healthcare spending has been steadily increasing over the years. According to the American Hospital Association, there are 5,815 registered hospitals in the US. Each one of these hospitals is potentially a HealthStream client. As regulations become tighter, these hospitals will have to meet more and more regulatory requirements in order to retain their registrations. As these regulations become complex, it will increasingly become difficult for hospitals to keep a track of all regulations and HealthStream can help fill this gap with its unique offerings.
The revenue from healthcare industry has been growing at a rate of over 2% per annum over the last 5 years. This growth is due to both an increase in demand for healthcare and an increase in the price of healthcare. Additionally, technological improvements have resulted in the availability of a number of new procedures and have resulted in increased outpatient care. Population growth and aging are other factors that have a direct impact on the healthcare industry's revenue. Improved technology poses a challenge for hospitals since they need to keep their workforce well-versed in the latest technology. HealthStream already has the platform to help hospitals meet this information and training challenges.
Also with the aging of the American population, the type of healthcare needed by the patients has seen a great shift. Elderly parents require a completely different type of healthcare and the current hospital workforce in many hospitals is not trained to meet these challenges. Once again, this provides HealthStream with an excellent opportunity for growth.
In general, an increase in demand for hospital services will see an increase in HealthStream's business. There are several factors which have a direct influence on the demand for healthcare. As mentioned above, these include the general state of health of the population, demographic trends, healthcare technologies, and cost, affordability and availability of healthcare (IBISWorld).
There are a number of programs and initiatives that can improve the overall health of a population by promoting healthy lifestyles and increasing the safety of roads and workplaces. Also pharmaceutical companies often come up with new drugs that reduce or eliminate the need for hospitalization. A healthy population has much less need of healthcare, hospitals and healthcare professionals. An increasing push by many organizations towards preventive care, an adversely affects HealthStream's business.
The demographics of the population also have a direct impact on the population's need for healthcare. Elderly people are much heavier users of healthcare as are women of the childbearing age. The US population is fast reaching retirement age and this will result in increased demand for healthcare services. An increase in the demand for healthcare services will have a positive effect on HealthStream's business.
New Technologies can both increase and reduce the demand for hospital services. Easy and cheap availability of new technologies can increase their demand while other technologies help in reducing hospital stay of the patients. New technologies have a positive impact on HealthStream's business since healthcare workers need to be trained in these new technologies. Reduced hospital stays, reduce the demand for healthcare workers and this will have an adverse impact on HealthStream's business.
People with more disposable incomes tend to spend more on healthcare. They are also more likely to demand elective surgeries. A well functioning economy with high employment rates results in higher disposable income and hence higher demand for healthcare services. Health insurance coverage also impacts the demand for healthcare. According to IBISWorld, in 2008 about 84.7% of the population had some form of health insurance. The current economic recession, with high unemployment rates means a high number of people are without health insurance and are less likely to demand healthcare services except in case of emergency. Thus, a recessionary economy can have adverse effects on HealthStream's business.
Yet another potential source of revenue for the hospitals is the export of hospital services. This involves treating foreign patients in US hospitals. These foreign patients are usually wealthy and are willing to pay the high costs of US medicine. In the US, the "import" rather than export of hospital services is on the rise with many US citizens traveling to countries like India and Singapore to avail healthcare which is offered in these countries at a much cheaper rate but with level of expertise. This loss of revenue for US hospitals can have adverse effects Healthstream's business since the company has businesses only in the US. One way to get revenue from imported hospital services is for HealthStream to expand overseas. However, the company is still too small to be able to expand overseas.
Healthcare is a highly regulated industry and all hospitals must comply with conditions of participation and licensing requirements of federal, state and local health agencies. Hospitals must also comply with municipal building codes, health codes and fire department codes. When granting or renewing the license, the department of health checks the condition of the building and equipment, qualifications of the workforce, quality of care and continuing compliance with the laws and regulations. These high level of regulations has a positive impact HealthStream business since it means that keeping its employees well trained is not dependent on the hospital's administration but is a must for every hospital to hope to remain in business. This results in a guaranteed market for HealthStream's products and services.
Other macro-environmental factors that can impact HealthStream's business include the political pressure to reduce healthcare costs. Currently, labor related costs account for 50% of a hospital's expenditure. HealthStream's revenue comes from this labor-related costs. With an increasing pressure to reduce healthcare costs, hospitals may decide to reduce labor costs and this may adversely affect HealthStream's revenue.
Five Force Analysis
Barrier of Entry: The barrier to entry in the healthcare education industry is very low. Any person with enough knowledge about the latest technologies and regulatory requirements of the healthcare industry can easily launch a website and enter the industry. Google's AdWord provides a cheap and easy way to advertise a new product. HealthStream has differentiated itself on the basis of its proprietary product HLC. However, making a product similar or better than HLC is not very difficult and any software engineer can make such a product in a few days for a very nominal costs.
Although, new players in the field do not need a lot of upfront capital, they will need to spend substantially to get brand recognition and grow in the industry. Once again, this is not difficult and if the new player has reasonable cash, it can invest in marketing and getting new customers. The switching cost to a new product is negligible since HealthStream bills on a subscription basis need to be renewed periodically. A customer can easily switch to a competitor at the end of a subscription period.
The one difficulty that a new player might face is access to the all courseware that makes HealthStream's services unique. However, this is a small issue and a determined competitor can easily get into strategic partnerships with hospital and healthcare education providers to develop a course library.
In the healthcare research industry, the barrier to entry is medium, mainly because the established firms like NRC and Press Ganey have high brand recognition and a new player would have to differentiate itself in order to steel clients from these firms.
Supplier Power: The raw product in the healthcare education industry is the courseware. This courseware is easily available from a number of sources, including online sources. A lot of information is also available absolutely free over the net. As such, suppliers do not have any power in the industry.
Threat of Substitutes: HealthStream provides its customers with continuing education in healthcare industry. However, HealthStream entered this industry only about ten years ago while healthcare professionals had continuing education needs for several decades before that. Even today, many healthcare professionals prefer offline continuing education methods such as medical journals and conferences. As such, the industry has a very high threat of substitution.
Buyer Power: Since buyers have a wide range of options to take care of their continuing education needs, they are not in any way dependent on HealthStream to provide them with the learning solutions. HealthStream has been able to differentiate its product by providing a vast range of courseware over a single platform which is easily accessible in the healthcare worker's spare time. However, the courseware is also available from a number of other sources and through HealthStream's product is more convenient, the buyer is under no obligation to buy its product and can always choose alternative methods of continuing education.
Competition: HealthStream is the market leader in the field of providing education solutions to the healthcare industry's workforce. At present, none of HealthStream's other competitors are well positioned in the healthcare center to provide continuing education solutions at the same level that HealthStream does.
In the Healthcare research industry, HealthStream is still a small player with negligible market share. The big players of the healthcare research industry are well established and have the brand recognition to make it difficult for HealthStream to establish itself in this industry. The only way HealthStream can establish itself in the healthcare research industry is by offering its research solutions in combination with the continuing education solutions until it has enough brand recognition to be able to give competition to the established players.
As can be seen from the above five force analysis, HealthStream operates in an industry wherein there is constant threat from competitors, new players and substitute products. Also, its customers can easily switch to a competitor, giving HealthStream very little control over the industry. Hence, the company must attract and retain customers only through the strength of its unique product and excellent customer service. The fact that HealthStream's revenue and net incomes have risen despite these challenges shows that the company is meeting a certain consumer need that no other provider has been able to meet as satisfactorily as HealthStream.
Financial Analysis
The tables 2-4 below present the three key financial statements of HealthStream over the last three years:
Table 2: Consolidated Balance Sheet for the last three years
Table 3: Consolidated Income Statement for the last three years
Table 4: Consolidated Cash Flow for the last three years
As can be seen from the above financial statements, Healthstream is a profitable company. In the fiscal year ending December 2009, it had a net income of $13.9 million, a 389.4% increase over 2008. HealthStream has remained profitable over the past three years. Its net income in 2008 was 2.8 million down from 2007's net income of almost 4.08 million. According to the company's 10-K filing, this huge jump in 2009 net income is due to increased sales of its products and services and tax benefits associated with the recognition of a portion of the Company's deferred tax assets through a reversal of the valuation allowance.
The table below gives the company's stock performance over the last 52 weeks.
Table 5: Healthstream's Stock performance over past 52 weeks
It is obvious, that the current recession impacted stock prices of HealthStream as well despite the company having strong financials. However, the stock price has smartly risen from its 52-week low of $1.93 to end at respectable $4.85.
Some of the things that stand out in the three key financial statements include the huge jump in the company's net income in 2009 over 2008. As explained in the company's annual report, this is mainly due to a huge $8.8 million tax credit that the company received in 2009. The company continues to have substantial net operating loss (NOL) carryforwards which may help the company reduce future tax expenses.
In the balance sheet, the fact that the company had zero long-term debt in 2009 stands out. Zero debt reduces the company's liabilities and provides better value to its shareholders. The act that the company has NOL carryforwards means that the low debt will not affect the company's tax liabilities. As such, the company is in very good financial health and can provide good value to its shareholders.
The table below presents the key ratios of HealthStream over the last three years.
Table 6: Key Ratios over the last three years
In addition, HealthStream's current P/E ratio is 7.46.
SWOT Analysis
Strength: HealthStream's main strength is the proprietary HLC platform which allows it to provide custom-made solutions to its customers. The platform fulfills a need in the market which is not catered to by any of its competitors. By offering customizable solutions and allowing customers to upload create and upload their own content, they are able to attract a large number of clients. HLC also offers healthcare organizations to track the progress of their workers. Additionally, HealthStream analyses the continuing education needs of the employees and suggests courses which the healthcare professionals may need in order to meet their accreditation and regulatory requirement. For the busy healthcare professionals, this is a simple one-stop solution for all their education and compliance needs.
Healthstream is financially very strong having posted a $13 million net income in fiscal year 2009. Additionally, the company has zero debt. This allows the company enough flexibility to make strategic maneuvers to strengthen its position in the industry.
HealthStream's recent move to diversify into healthcare research field will allow the company to assess the needs of the healthcare industry first hand and customize its solutions for individual clients. Although Healthcare research has only a minuscule market share, having research capabilities will allow the company to grow even in its core business of healthcare education.
Weakness: Healthstream's focus is solely on the healthcare industry. Although healthcare industry is a huge industry with revenues exceeding $2 trillion, it is still only one industry with limited growth opportunities. If HealthStream does not diversify into other industries, it will severely limit its ability to grow.
Although diversification into healthcare research industry was a good move, in the two years since, the company has not been able to grow much. The healthcare research industry is still dominated by NRC and Press Ganey and Healthstream has only been available to provide regulatory surveys to help its client meet their regulatory needs.
Opportunity: The highly regulated healthcare industry and the mandatory continuing education requirements for healthcare workers provide HealthStream with an excellent opportunity to grow in the healthcare education industry. The regulations and mandatory accreditation requirements mean that healthcare professionals must make time in their busy schedules to keep themselves updated on the latest technology. The traditional methods of continuing education tended to be costly and time consuming. By providing a low-cost and easily available alternative to the traditional education methods, HealthStream has created for itself a huge opportunity to grow in the healthcare industry field.
The American population is aging and has a lot more healthcare needs than younger people. Healthcare industry will have to recruit at an unprecedented scale if it hopes to cater successfully to this aging population. More healthcare professionals, especially in the younger age group, will have even more continuing education needs. The younger generation is also more likely to prefer internet based-solutions to traditional solutions. So as the older healthcare workers retire and newer workers with educational needs are hired, it will result in more business for HealthStream.
Threats: Since healthcare education is a low-barrier industry, a new or existing competitor could launch its own competing product with similar or better product offerings and services, making HealthStream's products obsolete.
The current economic recession is the worst since the Second World War. Although there are signs of recovery, another bad news could suddenly slump the economy and the resulting recession could be even worse. Although, hospitals have not yet cut their budgets, another economic downturn could force hospitals to hold their growth plans, resulting in lower business for HealthStream.
Corporate Strategy Analysis
HealthStream's corporate strategy is in line with the macro-environmental realities of the healthcare industry. The company provides healthcare-related education and information to healthcare organizations and helps them comply with the regulations. Since complying with regulations is essential for the survival of a healthcare organization, HealthStream provides valuable service to the industry.
In 2007, the company diversified into the related Healthcare Research industry. HealthStream used the acquisition method to diversify into the research industry making strategic acquisitions of DMR and TJO. Healthcare research is directly related to healthcare-related learning, education and information needs of the industry since the research helps hospitals determine if they are meeting their regulatory requirements or not. HealthStream can also leverage its insight into the Healthcare education industry to provide hospitals with learning solutions based on the research results. As such, the company's strategy to diversify into research was a good one and judging from its financials, it is one that has paid off.
As a result of this diversification, HealthStream at present has two products, HealthStream Learning and HealthStream Research. The figure below shows a BCG matrix for these two products. HLC is HealthStream's star product with a high market share and high growth opportunity. On the other hand, HealthStream Research, which was launched in 2007, has a negligible market share in an industry that is dominated by NRC and Press Ganey. Also growth in this industry has been slow and mostly pegged with the growth in HealthStream Learning. As such it is still a dog.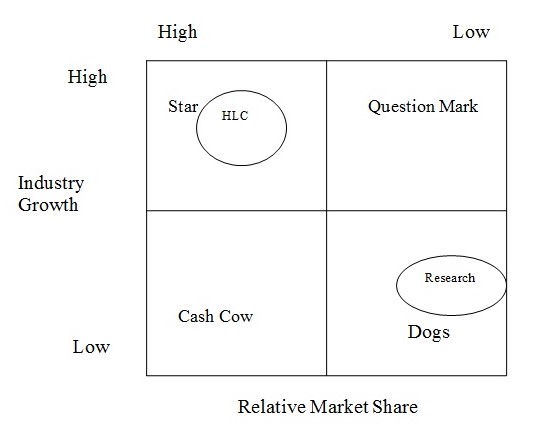 Recommendations and Conclusion
Based on the above in-depth company analysis, I would like to make certain recommendations to help HealthStream continue with its growth path. HealthStream's biggest weakness is its dependence solely on the healthcare industry. While, such high focus has its benefits, it limits HealthStream's growth opportunities. Also, in case of some catastrophic occurrence in the healthcare industry, HealthStream will no longer have any clients. Hence HealthStream may want to look into diversifying into other industries in order to delimit their growth opportunities and limit any potential losses. Although there are several strategies for such a diversification, the one best suited for HealthStream is to make strategic acquisition. The company is financially in very good health and can invest in acquiring a company with a broader industry focus in order to grow further.
Because of low barrier to entry in the industry, HealthStream faces a high risk of being beaten by a new or existing competitor. Hence, HealthStream must hedge itself against any such competitive catastrophe. One way they do it is by offering a wide range of products. HealthStream already offers a huge library of courseware. In order to remain competitive, the company might look into expanding its product offering to include diagnostic and other services to the healthcare customers. The company already has a huge library and providing such additional services will not cost them much. The idea is to offer all the services that its competitors offer so that the customer finds all their solutions in one place and once they are logged into the HealthStream system, they do not feel the need to leave it for any reason. Once customers form the habit of referring to HealthStream for all their needs, they will form a strong brand loyalty, making it difficult for other competitors to break into HealthStream's stronghold.
HealthStream has done pretty well for itself, providing online educational solutions. Financially also, the company is very well placed. HealthStream must now build on its existing success to catapult itself into an even stronger position, thus making it less vulnerable to competitive pressures.
References
10-K (Annual Report). 2009. Healthstream. Web.
A.D.A.M. Annual Report. (2009). A.D.A.M. Web.
Adobe Success Story: Healthstream. (n.d.) Web.
CapitalIQ. (n.d.) SumTotal Systems Inc. – Income Statement. Web.
Datamonitor (2010). Healthstream, Inc. Web.
EDGAR. (n.d.) HealthStream, Inc. US Securities and Exchange Commission. Web.
Fast facts on US Hospitals. (2009). American Hospital Association. Web.
HealthStream (n.d.). Accredited education (n.d.) HealthStream. Web.
HealthStream. (n.d.) Eden Alternative's Mission to Reinvent Elder Care with Principles Everyone Can Use. HealthStream Research. Web.
HealthStream Acquires The Jackson Organization; Launches HealthStream Research. (2007). Health & Medicine Week. Web.
HealthStream announces the release of Healthstream Authoring Center. (2003). Business Wire. Web.
HealthStream Launches Analytics and Reporting Website. (2010). Wireless News.
HealthStream Inc. reaches pact. (2000). Wall Street Journal.
HealthStream Named One of Fastest Growing Technology Companies in North America by Deloitte & Touché. (2001). Business Wire.
Hoovers. (n.d.) HealthStream, Inc., Saba Software, Inc., A.D.A.M., Inc., Gallup.
IBISWorld. (2010). Hospitals in the US. IBISWorld.
Mergent Online. (n.d.). Healthstream Inc. – Business Summary.
National Research Corp. (n.d.). About Us. National Research Corporation. Web.
Pelofsky, J. (1999). Frist relative to take Healthstream company public. Reuters News.
Press Ganey. (n.d.). Our Services and Products. Press Ganey.
Saba Software. (n.d.) Company. Saba: The People Management Solution.
SumTotal Systems. (n.d.) About Us. (n.d.) SumTotal. Web.
#university #college #student #education #students #study #studentlife #school #universitylife #collegelife #studyabroad #studygram #uni #photography #universit #love #instagood #instagram #graduation #motivation #covid #highereducation #memes #like #learning #science #bhfyp #campus #india #universitystudent