The estimated reading time for this post is 3 Minutes
McDonald's Corp- Ray Kroc initiated McDonald's Corporation in 1955 when he purchased a small hamburger chain from Richard McDonald and Maurice McDonald. The corporation has its headquarters in Oak Brook, Illinois, United States. Currently, the corporation owns the largest chain of fast food restaurants in the world, which serves more than 64 million customers per day around the globe. McDonald's Corporation has carefully executed its Plan to win strategy. This strategy has allowed McDonald's Corporation to expand in every region of the globe, increase its comparable sales, and efficiently manage its operational expenses. These fruits of its labor are quite evident in its annual financial statements.
Yum! Brands, Inc. – The Company is made up of other small businesses including Pizza Hut, KFC, Long Silver's American Food Restaurants, and Taco Bell. The combination of these businesses has made it come out strongly and has dominated the China market where McDonalds has been enjoying the monopoly. Its main working strategy is its splitting of the resources into several brands, which has helped it in the generation of high revenues contrary to McDonalds, which run and operate all its business under the same flag. KFC Corporation is the world's most popular chicken restaurant chain, specializing in variedly flavored chicken varieties. KFC operates in 109 countries around the world and its products have a good brand image.
Yearly Income Statement
McDonald Corporate
Yum! Brands, Incorporated
Annual Balance Sheet
McDonald Corp.
Yum! Brands, Inc.
Quarterly financial information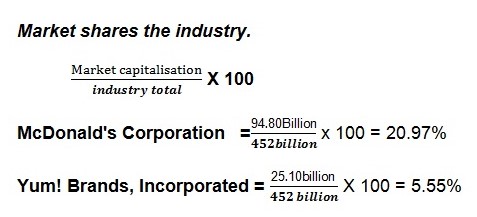 Stock Price History information
Current event information
McDonald's Corp- The current business structure of McDonald's Corporation allows the firm to operate its restaurants in one of three ways; by the corporation, a franchisee, or an affiliate. The corporation generates revenues from its own restaurants in terms of sales, royalties, fees, and rent. McDonald's operations have been aligned Plan to Win. This strategy encompasses five Ps; people, products, place, price and promotion, in an attempt to ensure that the customers' experience at McDonald's restaurants remain exceptional and unparallel. By using these five Ps, McDonald's Corporation has created a strong competitive advantage for itself; the company's success is attributed to this competitive advantage. McDonald's Corporation also remains committed to improving its operations constantly, which will eventually enhance customers' experience.
Yum! Brands, Inc. – Since then KFC has been operating as a brand section under Yum! Brands. The main products of Yum! Brands, Inc include wraps, chicken pieces, sandwiches, and salads and its focus is fried chicken. It also offers roasted and grilled chicken products, desserts, and side dishes.
Conclusion
In the case of Yum! Brands, Inc, the P/E is high indicating that the market has faith in this stock growing and performing much better in the future. Investors are thus relying on this stock for capital gains. The McDonald Corporation has a lower P/E ratio as compared to Yum! Brands, Inc, but it is high enough and indicate that investors expect that the stock will go on performing well. It may also indicate that the stock is approaching maturity and will soon stabilize and so its growth rate has slowed down and in future this is a stock that will be relied on for dividends rather that capital gains. Other factors a part from P/E, McDonald's performs well than Yum! Brands, Inc. This means that McDonald is a good investment as it has good returns for assets, higher market share, good quarterly results, and stable stock history.
#essaywriting #essaywritingservice #essaywritinghelp #essaywritingservices #essaywritinghelponline #essaywritingsucks #essaywritingskills #essaywritingonline #personalessaywriting #essaywriting101 #avoidingessaywriting #hateessaywriting #procrastinatingessaywriting #helpwithessaywriting #earlymorningessaywriting #andessaywriting #essaywritingmalaysia #2018essaywritingcontest #makingessaywritingfun #essaywritingcomplete #iamoveressaywritingalready #essaywritingtherightway #dodgingessaywriting #imsupposedtobeessaywriting #essaywritinglessonsbybrady #essaywriting️